NOTE: There was a small error in the initial file that removed the HFK + Sorrows pod. This has been corrected.

Hello everyone,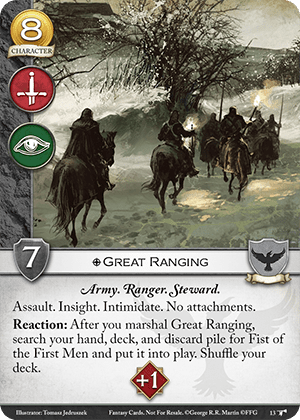 The Global Operation Team's Card Committee is excited to present some new changes to the Standard Joust Restricted List – a lighter touch than our last update, but one we hope will have a positive effect on the meta nonetheless. This update will come into effect on Friday, January 20, 2023.
This is our first update since Stahleck, which is the major data point from which we drew conclusions – so there are some notable decks to discuss!
Firstly, the Night's Watch. While we are pleased with the effect that restricting Great Ranging and Castle Black (BtB) has had on their effectiveness, the faction as a whole is still over-represented, and relying very heavily on this giant army to carry out its plans over multiple challenges. We have therefore decided to add Satin to the list in this update. While the card performed reasonably when it came out, with the range of Stewards that were available at the time, it has grown more powerful with each new Steward that releases. We hope that a restriction will curtail the number of times the NW player can reuse the Great Ranging in a single challenges phase without too heavy an impact outside of that.
Secondly, Tyrell has developed a new and extremely effective deck built almost entirely around Randyll Tarly (JS), notably using him in combination with Goldengrove, Oldtown, and a large number of The Reach locations to claim several non-interactive power repeatably (most frequently by making Randyll an Army using The Many-faced God, and using his own text to stand himself after using him to trigger Goldengrove). In order to target this combo as directly as possible (and because he is an extremely potent character even outside of it), we are adding Randyll Tarly (JS) to the restricted list in this update.
However, we are wary of hitting the faction too hard, having already disrupted two of their most powerful combos in our last update (Scheming Septon / Oldtown and House Florent Knight / At the Palace of Sorrows). As such, we are revisiting an older addition to this list, and are removing The Bounty of Highgarden. This card was first restricted back during the reign of Kingsguard decks, which were capable of immense economical gains through the City plotline, The White Swords, Balon Swann, and Boros Blount. With those decks no longer causing problems, we are comfortable in releasing this card back to the Tyrell ranks.
Speaking of removing cards – last time, we spoke of Martell's reduced effectiveness since our May 2022 update and decided to release In Doran's Name in order to ease up a bit. We have not seen a return of Martell Wars or the like since, and have decided to allow a little more leeway, by again removing a restriction. As a result, To the Spears! will be removed from the list in this update, hopefully giving a little more power to the decks that can use it without letting things get out of control. Though we will of course keep an eye on Martell's performance to see if this change has the effect we wish.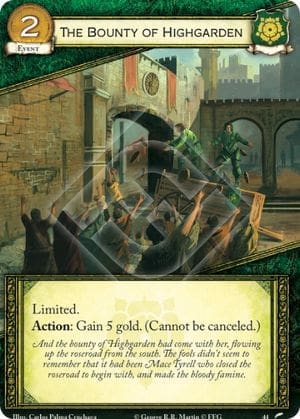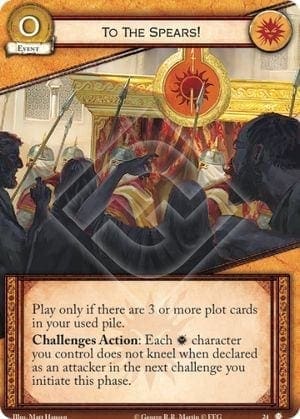 The last stand-out deck from Stahleck, of course, must be discussed – several players made excellent use of the Mummer's Farce agenda, including two of the top four and the eventual winner of the event. While we do see the potential for trouble with this archetype, we have decided that it would be best to let the meta decide how to handle this deck, rather than acting too quickly to crush it with restrictions. Several forms of counterplay already exist (in the form of The First Snow of Winter, for example, or by giving a gold token to a character with the No Attachments keyword to disrupt their Shagwell combo), and so for now, we will not be targeting this deck with the restricted list (though of course, it remains high on our watch list).
As always, the Card Committee will watch the results of these decisions closely, with a mind towards maintaining a healthy, fun, and diverse meta that provides a wealth of effective, competitive options, and we welcome your feedback.
There have been no changes to the Melee list at this time, but the version number has been advanced to keep in step with the Joust version number for technical reasons.
Good luck, have fun,
The Card Committee
Joust 1.6 Restricted List
Melee 1.6 Restricted List