The Global Operations Team is pleased to announce a small update to the available card files for the Redesign "set." Originally, these were some of the earliest fan run cards released for the game and as such, they utilized an only slightly modified FFG template. Now, they are available in the customized G.O.T. template!
There are two important things to note about this, however. First up, since these utilize the new template, they no longer have the red wax seal in the corner to help differentiate them. We think that with the different template, the fact that these are redesigns should be readily noticeable. And secondly, please know that if you have already printed copies using the old template, we are by no means requiring these new copies for official tournament play. They will, however, be updated for online play.
Redesigns:
– TIFF: https://drive.google.com/file/d/1MRwaz5HwONGEyTRAXKBJYBinlR7uqU__/view?usp=sharing
– PDF For print at home: https://drive.google.com/file/d/186sIhQweTgaCLOKHb_SZI5c5lICDx8Pm/view?usp=sharing
And one final note. Due to some of our process trying to secure the usage of various pieces of art, one piece formerly used for Addam Marbrand was not available to us at time of release. In the time since, however, we have been able to secure that usage. In order to minimize future confusion with established art which we are attempting to reuse, Addam Marbrand's card has been updated as seen below. The file link on the card page should include the updated image now as well.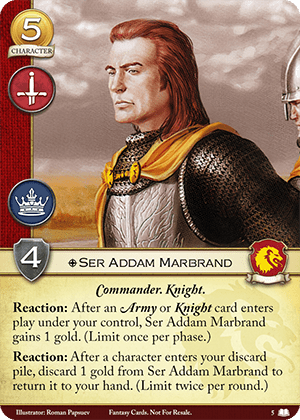 Thank you for your cooperation and patience as we continue to update things and move forward!